SS Propaganda
This section is quite long in comparison to others, where I have mostly let the photos do the talking. This is because there is very little information on many of the artists and their work - especially Ottomar Anton. I notice a lot of my text from this page is being copied verbatim on other websites - which is fine; but a link or credit would be appreciated as I don't get paid for this.
Anyway if you get bored, you can skip the text and just look at the photos.
A Warning to Collectors: I often get asked to authenticate Third Reich posters. There are many reproductions on the market. Some are very poor copies, some are complete fantasy items, some are printed from postcards and some are very good copies of the original poster. If you are contemplating spending thousands of dollars on a poster and you have little or no knowledge about posters, and it's not from a recognized dealer, please have someone check it for you, before you spend your money.
It's never a pleasant experience to find you have a very expensive fake in your collection. It's definitely not pleasant for me to have to tell you.
Below is a link to a section on fantasy and reproduction posters as a quick guide to pointing out at least some of these for those readers who are interested. Some of the Movie Poster dealers already have this feature to assist their customers
The Propaganda
Third Reich propaganda posters were some of the most visually appealing to come out during the period. I'm not sure if all the different posters produced by the Third Reich have ever been cataloged, but it must be an enormous number. Trying to catalog the posters produced just for the Waffen-SS might be a near impossible task. Mostly they were printed on very thin paper and made to be used for a few weeks, then torn down or pasted over with the next new batch. Many poster designs might have disappeared forever due to their fragile construction.
A very large number of posters were produced to attract foreign recruits to the Waffen-SS. Many unique posters were designed specifically for these countries, and quite a number of German posters were adapted for this purpose as well, usually by localising the language.
Quite often poster designs were made into postcards, recruiting booklets and other printed items.
While I have tended to focus on Ottomar Anton, I have to give credit to some of the other well known Third Reich artists who did propaganda for the Waffen-SS. These are the most notable I am aware of - if you can suggest some otthers I would be happy to add them to the list. All of their Waffen-SS posters are very rare and are hardly ever seen on the market:
Gino Boccasile - a very gifted artist from Italy, who was an Untersturmfuhrer in the Waffen-SS. He was imprisoned for a short period after the war, but still went on to have a successful career as a graphic artist. After the war he did posters for many different consumer products and even some very racy, sexy covers for the French mens magazine "Paris Tabou". He died in 1952.
See Gino Boccasile's posters here:
http://www.galleria.thule-italia.com/
Hans Schweitzer - a German artist who signed his posters and other artwork with the name "Mjölnir" which is the name of Thor's Hammer. He was a favorite artist of Propaganda Minister Joseph Goebbels. He basically did one poster for the Waffen-SS that is highly sought after. He was another artist who went on to success, after the war, in graphic arts.
Harald Damsleth - he did a number of outstanding posters for Waffen-SS recruiting in Norway. He was imprisoned for several years after being tried for treason at the end of the war, but he too had a successful graphics art career. He died in 1971.
Check out his posters at these websites:
http://www.frontkjemper.com/index_files/art.htm
http://www.galleria.thule-italia.com/
Finn Wigfors - he was born in Sweden but lived most of his life in Norway. He is best known for doing perhaps the very last Waffen-SS poster of the war. He was another artist that spent time in prison after the war due to his association with the Third Reich.
See his artwork here:
http://www.galleria.thule-italia.com/
SS-Haupsturmfuhrer Professor Ottomar Anton (15 December 1895 - 7 November 1976)
Ottomar Anton was one of the most prolific Waffen-SS poster designers during the Third Reich.
Many of his Waffen-SS posters were done in a patriotic style with Waffen-SS men, or potential recruits, gazing off into the distance.
Before the war he designed literally hundreds of travel posters for the large German cruise ship companies "Hamburg-Amerika" Line (HAPAG) the "Deutsche Afrika" Line, and some for the British "Cunard" and "White Star" Lines as well. Many were a "dreamy" type of design, done in the Art Deco style, with a scene depicting the country or area advertised with the cruise ship majestically sailing in the distance (see the samples below). He also did some posters for a few beer and cigarette companies such as the famous Eygyptian cigarette company "Kyriazi".
Besides his Waffen-SS posters he is probably best known for his two spectacular Zeppelin posters - one on the Hindenburg and one on the Graf Zeppelin. These are highly prized by both aviation and travel collectors and regularly sell at high prices. He also did a couple of posters for sailing events for the 1936 Olympic Games in Berlin, which are quite rare, and some political posters such as the "Das Buch" poster pictured below.
SS Rank
A small recruiting brochure produced by the SS-Hauptamp (SS Head Office) identifies Anton as having the rank of SS-Hauptsturmführer d.R. Waffen-SS (the SS Reserve. Also see below about this brochure). His SS Number is 283804.
A number of web sources state him as being Hermann Goering's favorite artist. As there is very little information on Anton I cannot confirm this. He does not appear to have done any artwork for the Luftwaffe before or during the war. If anyone has any further information please feel free to contact me.
Signature
One thing for collectors to note is Anton's signature. It appears on every single poster he ever did. On his earlier work it was O Anton with the word Hamburg underneath. At some point he dropped the Hamburg and it was just O Anton.
Post War Work
After the war he did poster work for various companies including the "4711 Cologne" company and the Adler typewriter company and taught as a Professor at the Bremen School of Art. He was a master of the "Art Deco" style and designed some of the most eye catching posters of the period. Politics aside, Anton was truly a master of his trade.
Burial Place
Anton is buried at the Ohlsdorf garden cemetery in Hamburg. This cemetery appears to be mostly for the citizens of some accomplishment (polticians, movie and theater stars, doctors, professors etc). I have provided a link below to the page where Anton is listed, which shows the location of his burial plot.
Ohlsdorf Cemetery Listing For Ottomar Anton
Finally we have a photo of Anton's burial place - but still no photos of the man himself. If anyone can help out with a photo of Ottomar Anton it would be much appreciated. I have exhausted every source I have except going to Hamburg myself..........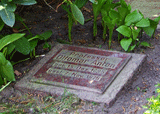 Here are a few original samples of Anton's other work:
1. A rarely seen HAPAG travel poster - printed around 1930. This poster has the the older "O. Anton Hamburg" signature. Contrasting with a lot of Anton's work, it features a warm, golden sun soaked sky reflecting off the water. HAPAG regularly had cruises to warm climates in the Mediterranean, Carribean, Middle East and South America. The ship is done in a nice art deco style typical of Anton and also has the City of Hamburg's Coat of Arms on the bow of the ship. The ship has two stacks, and might have been drawn from the "St Louis" or the "Milwaukee" ships which saw service in the Carribean.
(my collection)
The majority of the Hamburg-Amerika Line's ships were sunk in the war (some were given/taken as reparation to Allied countries) but the fleet has since been rebuilt and is now merged with the Lloyds shipping company as "HAPAG-Lloyds"one of the world's largest shipping companies.
However, I don't believe they do many pleasure cruises these days, as it's mostly a freight company.
2. A HAPAG 1930 travel poster advertising a cruise to the islands in the Atlantic (in French). This poster also has the word Hamburg below Anton's signature. This actually is an updated version of an earlier poster which was done in less of an Art Deco style. Anton added a few elements (such as the basket of oranges) changed the ship to be at anchor (it was moving in the earlier version) and smoothed out the graphics to make it a much nicer image Click the thumbnail to see the two versions side by side.
(my collection)
3. Another HAPAG travel poster from 1934 advertising cruises in the Mediterranean Sea. Looks like a very Moroccan scene. (my collection)
4. Anton's famous Zeppelin poster, featuring the Hindenburg. Probably the most spectacular of the Zeppelin posters (although Jupp Wiertz did some good ones too) This comes in English, German and Spanish versions. Usually this poster has a Tri-Color flag and Swastika but an auction in 2011 had a variation with dual Swastikas that sold for $4,000. A variation with an American Airlines overprint sold for $6,000 back in 2009. (my collection)
5. One of two known posters used for the sailing competition at the 1936 Olympic Games. This poster was originally done for the Yatch Club in Kiel and was simply changed for the Olympics with different text and the Olympic Rings added. Photo courtesy of the "Stadtmuseum - Warleberger Hof" in Kiel, Germany.
6. A powerful and striking 1938 political poster advertising Mein Kampf (without mentioning the title). Translates roughly to: "The Book. The power source of the Nation." This poster has gold leaf applied to the background and highlights on the eagle's beak and feathers which is quite unusual. I cannot recall gold leaf being used on any other Third Reich poster but I have seen it on one HAPAG travel poster. This photo does not do the poster justice by a long way. (my collection)
7. A post war 1950's poster for the 4711 Cologne company. I have not been able to find any Anton posters past the 1950's and I believe he retired from commercial work in this period.
8. A 1930's poster for "Kyriazi" brand cigarettes. Kyriazi was a world famous Egyptian tobacco brand in the early part of the 1900's and they set up a factory in Hamburg in 1925. This probably accounts for Anton producing posters for them. This is quite an unusal size at 176cm long by 83cm wide and I believe quite a rare poster as well. Kyriazi memorbilia is highly sought after by collectors.
9. Probably the most desirable of all the Waffen-SS posters and certainly the most widely copied of all SS posters. The German magazine "Stern" used this poster on its August 2006 cover, which is a testament to it's iconic association with the Waffen-SS. Few originals of this poster survive today.
(my collection)
10. The cover of German magazine "Stern" for August 2006 showing Anton's famous Waffen-SS poster.
11. The next four photos are connected to show Anton's close association with the Waffen-SS and his SS rank. This is Anton's "Dich Ruft Die Waffen-SS" poster which is sort of a German version of the famous US "I Want You" poster. I believe only a few of these have survived the war.
(my collection)
12. This is a period photo showing two SS Officers examining various posters (this photo is most likely from the SS Head Office). The French version of Anton's "Dich Ruft Die Waffen-SS" is on the wall behind them.
13. This small recruiting brochure, produced by the SS-Hauptamp, has the artwork from Anton's "Dich Ruft Die Waffen-SS" on the cover.
14. The credits page from the recruiting brochure identifying Anton as an SS-Haupsturmfuhrer.
15 &16. These are two original oil paintings by Anton. I discovered these in February 2013 and they currently reside in the US Army's collection of Third Reich war booty at Carlisle Barracks in Carlisle, Pennsylvania.
The paintings are large in size with the ski trooper painting measuring at 90 x 60 inches and painted in oil.
These are part of a huge number of Third Reich paintings and other artworks still held by the US Army. Unfortunately they are not for public display and even researchers are rarely allowed to see them.
If the US Army is afraid of fueling political movements by hanging onto these items they are quite mistaken. The amount of original Third Reich militaria in the market is simply enorrmous.
It would be nice if the US Government at least allowed these artworks to be displayed from time to time. Some have also deteriorated quite badly from improper storage.
These photos are courtesy of the Texas Tech University and the negatives were taken by Richard Schroeder and information collected by Billy I. Ross
Others are some random Anton posters just to fill in the space.
The poster at #17 features the Steam Ship "St Louis" which became infamous when it took 937 Jewish refugees from Hamburg to Cuba in July 1939. Cuba then refused to let them disembark. The USA and Canada also refused to take the Jews and the ship was forced to return to Europe.
#19 is another rare Anton Waffen-SS poster. Translates roughly as "Called to Fight - Guardians of Peace". Fakes of this poster are quite common.
# 20 The HAPAG Steamship "Patria". Not the same "Patria" ship sunk in Haifa harbor in Palestine full of Jewish refugees. For some reason unknown to me this poster regularly sells between $1500 and $2000. Maybe the Swastika flag on the bow ups the price on it......(my collection).
#21 A "Collection of Fairytales" book illustrated completely by Anton in 1922. A whimsical childrens book with dozens of illustrations to match. Anton would have been about 26 years old when he did this..As soon as I get time I will scan some of the color plates from the book and add them here. (my collection)